Home is where the Geek is. That's not saying Geeks only like staying home - despite the stereotype, many of us can be very sociable people. I, however, love hanging out in my place, getting in time with my family.
Adding in personal touches are really what makes a house a home (yes, it's cliche, let it go, let it go...). I've continued digging through Etsy and other online shopping venues to find fun, pop-culture goodies to give your space a little heart and brain. Let's get started with Part 2 of Geek Chic decor!
I have a friend who mentioned that my lack of TARDIS was disturbing, so we're going to going to head over to
ThinkGeek
to start off with some Doctor Who today, specifically, a Dr. Who bathroom:
Behold the trifecta of TARDIS bathroom essentials! Toothbrush holder, bath mat, and shower curtain all ready to transport you through time. You can pretend that you're the Doctor every time you take a shower (because I know you're weird like that). Here's what ThinkGeek has to say about the TARDIS shower curtain:



Your bath: it will be upgraded

If you've always wanted to step inside the TARDIS, here's your chance. This 72" square shower curtain will let you get away from the craziness of the real world, if just for a few minutes. (It works best if you actually take a shower. If you just stand in there, people tend to ask questions.) But when you step inside, you'll be able to transcend time and space... at least until the hot water runs out. However, if the control room is overrun with mildew, that's your problem.
I had to throw in that photo - the purple shower cap completes the essence of Doctor Who, doesn't it? You can purchase the toothbrush holder
here
for $19.99 (shipping only to Canada and the US), the bathmat
here
for $24.99, and the fabulous shower curtain
here
for $29.99 (shipping only to Canada and the US).
Star Wars is the movie of choice for many fangirls and fanboys. Wall decals can help bring your home to jedi life without breaking the bank:
These decals are shown in nurseries, but you can really use them anywhere. They're easy to apply and are a simple way of adding some interest to an otherwise blank wall. They're also easier to remove than wallpaper, so you can change the decals out as frequently as you wish.
bushcreative
is the store owner of the "Jedi" decal. The write:



This Vinyl Wall Decal is made with high quality MATTE vinyl and will last a long time. The decal has the appearance and thickness of about two coats of paint stenciled. Wall decals are very easy to install and just as easy to remove when you are ready to change the decor of your home. These can be applied to almost any surface and can easily transform every space in your home. (Think walls, windows, mirrors, and cabinets.)
You can purchase the "Jedi" decal
here
for $40.00 (a very typical price for decals), and the "Force" decal from
HappyWallz
at this
page
for a steal of $19.99.
If hanging things on your wall is more your style, I have a few more Star Wars items for you to peruse.
The clock is made from brushed metal and features different Star Wars starships and fighters. Writes shopowner
YOUgNeek
(great punny name!):
This beautiful clear and bushed metal clock boasts 12 vintage classic Action Fleet Micro Machine battleships and vessels. They are hand finished in a black and silver pewter-like color. Each Star Wars Starships and Fighters clock is YOU gNeek (pronounced Unique). If you have some favorite ships or vehicles in mind, let me know so I can include them if I have them in stock. Time to do battle! Requires one AA battery (not included - I use to include them but it made shipping more expensive due to weight).
James Hance
, one of my favorite artists, created the print of Han and Leia in the style of the movie "UP." I personally own the print and it hangs above my bedroom wall - I can honestly say it makes me smile every time I look at it.
The stitched hoop set of Han and Leia are handmade by
MisfitMenagerie
and takes 7 days for production. It's a cute simple way of dressing up your walls.
Purchase the clock
here
for $99, the James Hance print
here
for $15 (unframed), and the hoop set
here
for $45.
Blanket sets make you want to dive right into bed and stay there - these sets are no exception (except the zombie one).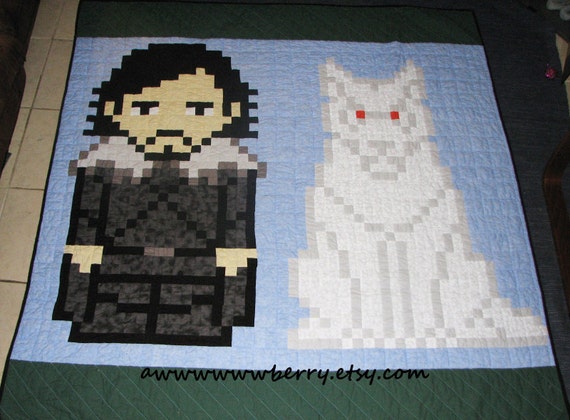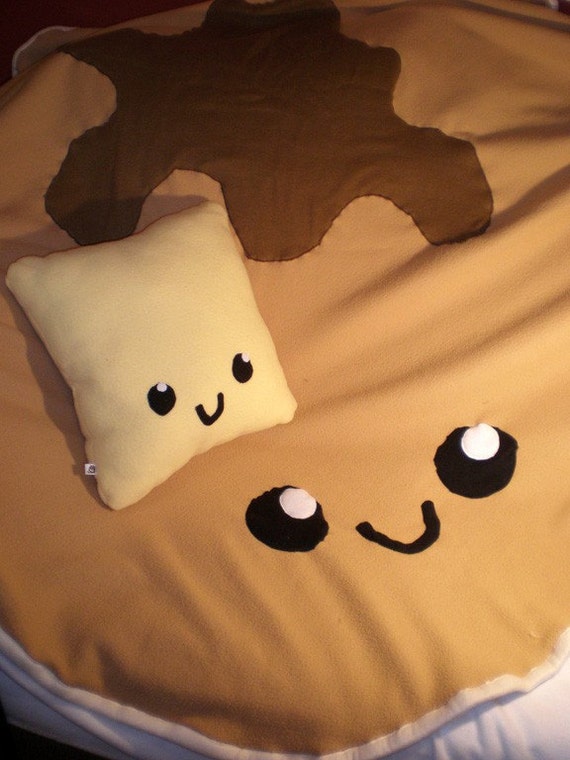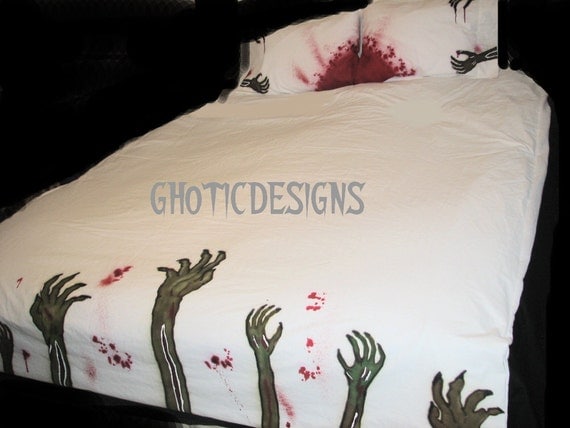 You know blankets, Jon Snow! And he would, wouldn't he? The North gets cold, and he protects a giant wall of ice, for goodness sakes!
awwwwwwberry
makes the Game of Thrones quilt by hand.
This listing is for one custom created quilt depicting an 8-bit Jon Snow and Ghost! Meticulously created by sewing together over a 1000 pieces of fabric, this is a unique piece that will truly showcase your love for the Game of Thrones or A Song of Ice and Fire series.
Have breakfast in bed, literally! Pancake Pillow and Butter Blanket are a yummy way to end your day.
Higginstuff
also creates this set by hand. The Zombie duvet and pillow case by
Ghoticdesigns

set isn't quite as awwdorable as the pancake pillow, but some of us like a good scare before going to bed.
Purchase your Jon Snow quilt here for $400. The Pancake Pillow and Butter blanket can be purchased here for $75, and the zombieriffic set can be selected here for $145.
That's it for this edition of Geek Chic Interiors. Happy Shopping!