Hi guys! Holy cow, it's been a while since I've last blogged, hasn't it? I have to admit, the writing bug flew away for a bit, but it seems my muse has woken up! I'm going to begin this new era of writing by dedicating this first post back to our new favorite show and book, The "Game of Thrones" (or "A Song of Ice and Fire" as the bookies know it).
As we all know, Etsyists have geek hearts of gold, and true to spirit, there are a LOT of GoT items up for grabs on the site. First off is a custom made Game of Thrones Lego set that is simply adorable:

The shop,
Demonhunterbricks
, has this to say about his pieces:
These custom designed Lego mini figure's are based upon Jon, Tyrion, Jaime and Daenerys from the popular Game of Thrones Series. Jaime includes custom made sword, cape and shoulder armour. Tyrion includes axe, gold goblet, wine bottle and table of wildfire mixtures. Jon includes his wolf snow and custom made sword and synthetic fur cape. Daenerys includes her three baby dragons and custom made shoulder cape and dress. All Parts are brand NEW, and are supplied unassembled.
You get get the legos
here
, for $87.89.
Next up is a Tyrion Lannister inspired necklace, the ever fearsome foe -
Wildfire
: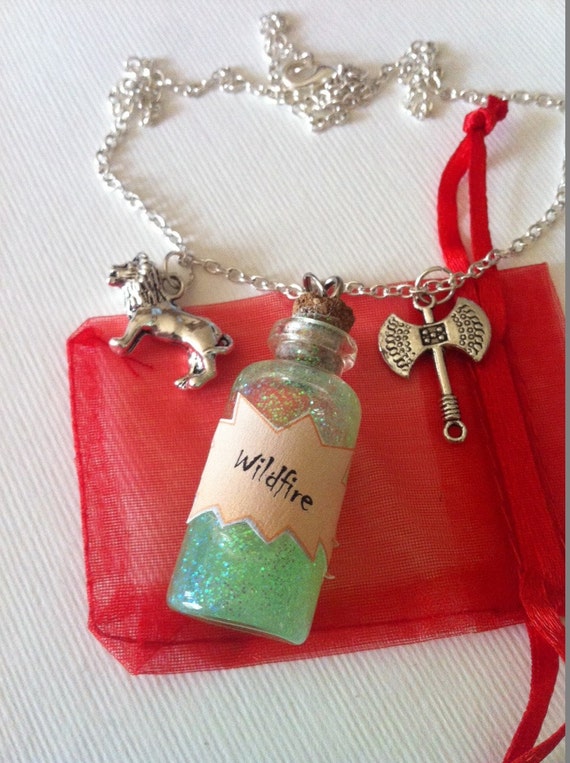 It's pretty cute for something so fearsome, isn't it? The shop,
Drogon's Den
(what a fabulous name!) has this to say about her necklace:
Necklace inspired by the character Tyrion Lannister from the book series A Song of Ice and Fire and the TV show Game of Thrones.

Features 3 charms: a lion symbolising house Lannister, an axe representing Tyrion's choice of weapon at the Battle of the Blackwater, and a vial of Wildfire.

All money raised from items in my shop will be donated to Marie Curie Cancer Care, as I am taking part in a sponsored trek for the charity later this year.
How is that for awesome? You can look good, be a fangurl or fanboi, and also be a part of raising funds for cancer. It's a win-win in my book. You can purchase the Wildfire Necklace here for $7.91
here
.
"Valor Morghulis" is a term uttered by Arya Stark, which translates to "All Men Must Die." We hear her uttering the phrase at the end of Season 4.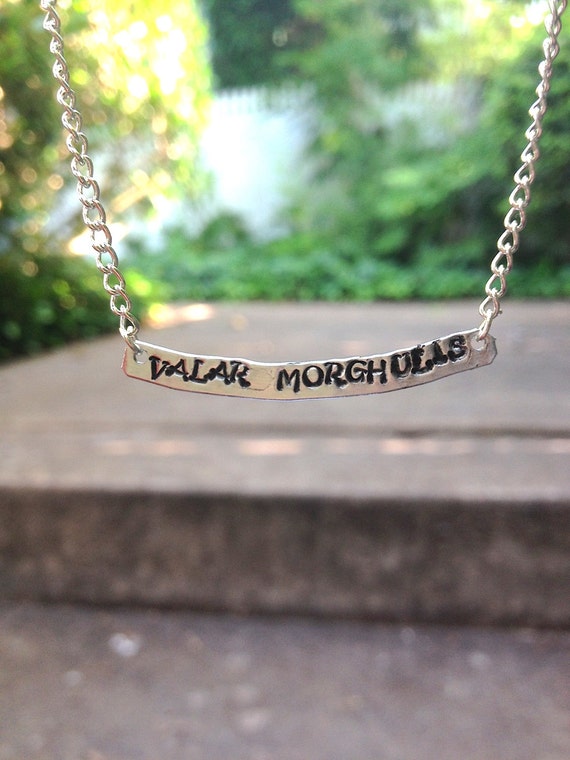 Shop owner,
GoldNStitch
, has a hand-stamped necklace to commemorate her journey.
The last words heard in season 4 of Game of Thrones. Arya has dealt with pain and loss these last few seasons. The look she gives on the ship gives us hope, and also shows that she is ready for revenge. People underestimate Arya, but nobody sees whats coming next!

Hand stamped by me onto flattened aluminum wire.
This necklace is available for $18.00 at her store,
here
.
Jon Snow is your typical broody, strong and silent, bastard type of man you cannot help but fawn over. Pair that with his direwolf, Ghost, and you have a Stark child worth drooling over. Keep him near you with this set of cheeky Jon Snow panties: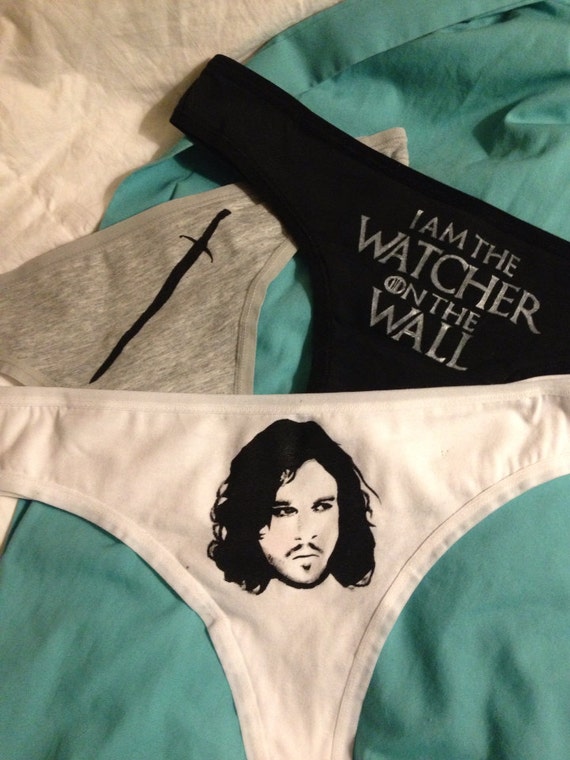 Three sets of your very own Snowties to protect your very own wall. (If you prefer blonde, Kingslayer types, there's also a pair of Jamie Lannisters.)
Shop owner, kayleeksauvey, writes:
This adorable panty set will keep you smiling every time you wear them! Featuring Jon Snow's face, Longclaw, and part of his vow, subtly modified to reflect his duty to the wall, this set would be the perfect gift or an excuse to spoil yourself. Celebrate season 4 with a secret! :)
You can purchase this set of GoT lingerie
here
for $30.00.
If you want to be a character on GoT, but just don't seem to get hired when stalking the set, you can pretend to be THE woman, Daenerys Targaryen, by purchasing this awesome cosplay gown: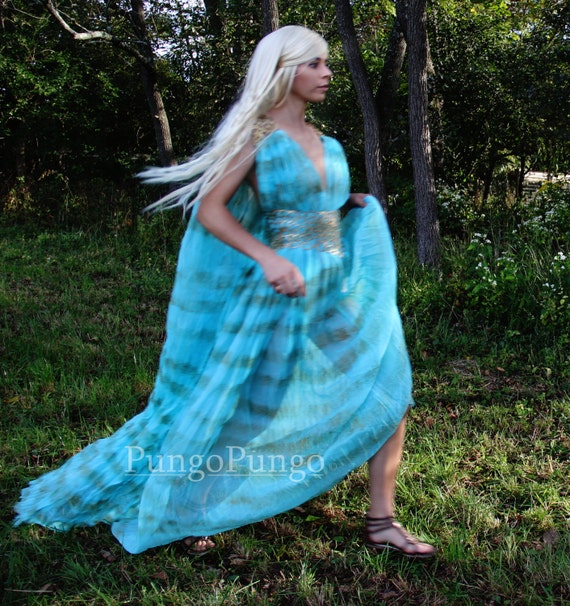 The gown, created by shop owner,
PungoPungo
, is handmade and was featured on "My Big Fat Geek Wedding!" PungoPungo writes:
The dress is completely hand made and features much hand sewing and beautiful finishing details, following construction methods taken directly from the original dress. The cape features a train, making for a dramatic gown.
We would swoon if we could be married in this dress to a Khal Drogo of our very own! You can purchase this dress
here
for $360.00. Please be aware of the lead time before ordering.
Last but not least is Hodor: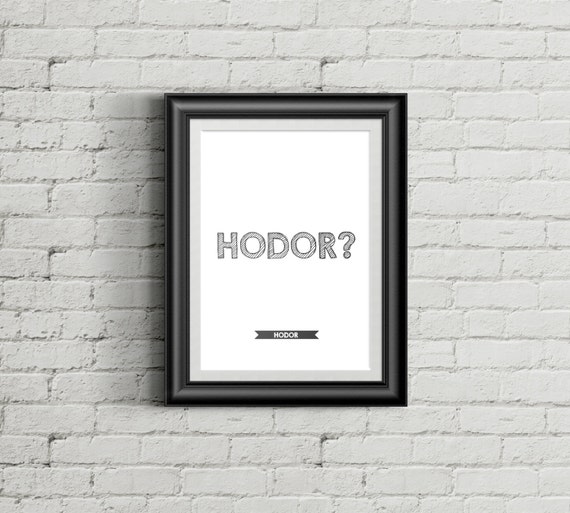 Because Hodor.
Shop owner,
lucretiadesign
, writes about her art:
Hodor. Hodor hodor hodor. Hodor! Hodor hodor hodor hodor. Hodor. Hodor hodor hodor? Hodor. Hodor hodor hodor hodor. Hodor hodor hodor. Hodor. Hodor hodor hodor hodor!!
Not really, but you know. Hodor. Get the print
here
for $5.00.
Thanks for reading folks! Hopefully this gets you through the wait until Season 5!