Merciful Minerva! Round up those bombshells, because we're doing pin-ups today, Wonder Woman style.
Wonder Woman has always been a bit of a mystery to me. I admit, I never got into her story line, but the overall look and obvious power of Princess Diana has always appealed to me. I stumbled across a few photos of a Wonder Woman-inspired pin-up dress, and I immediately fell in love. Of course, that had me hunting for other retro Wonder Woman get-ups, and what I found was amazingness across the board. I had to share it with all of you.
This was the dress that started my search. It's elegant, fun, and beautiful, perfectly capturing the pin-up era Wonder Woman:
Created by designer,
TheBirdTheBee
, the 1950s dress was handmade in Orlando, Florida. According to the shopkeeper:
Inspired by the Amazing Wonder Woman with a 1950's Flare. Great for everyday, cosplay, halloween, themed parties or pin up inspired events! To Include:

1950's inspired Dress
Fully Styled Wig with Victory Rolls & Wonder Woman Hairpin
Wonder Woman =W= Necklace
Adjustable Gold Belt
Wonder Woman Striped 1950's Vintage Pumps (these are authentic vintage pieces)
This dress is absolutely gorgeous. At the time of this writing, there was only 1 available, so hurry! You can purchase it
here
for $280.00.
This next dress isn't one I found on Etsy, but I fell in love anyway.
Available from UK retailers
KooKee Boutique,
this dress is available in multiple sizes. It doesn't ship to the US, so if you've got friends abroad, you may want to ping them to purchase. The dress is available
here
for £54.00.
Another Etsy creation, my favorite kind, this Wonder Woman apron will have you feeling your inner Amazonian Betty Crocker. Shopowner
PandorasProductions
writes,
All women can do wonders if they're put to the test.

Whether lassoing your family or tackling the lines at Comic-Con, this apron is for you!
It's.... something that should be in your closet right now! This hand made apron is crafted of the best fabric just for you.
If I owned this, I'd be inspired to lasso up some chocolate chip cookies. Please note that the petticoat is not included with this apron. You can purchase it
here
starting at $79.99.
We're going to go a little on the campy side now with this spandex Wonderwoman Cosplay outfit.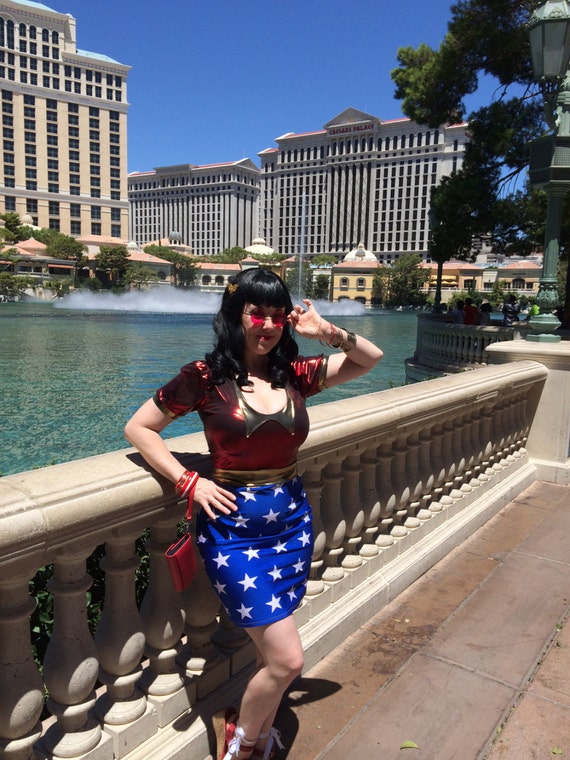 This bombshell betty's fun fashion choice is available through shopowner
SpellboundStitches
. It's a handmade item, made-to-order on your size. The body-hugging pencil skirt will definitely show-off your pin-up curves. You can purchase it
here
for $65.00.
I couldn't complete this post without adding something for the beach bunny Wonder Woman: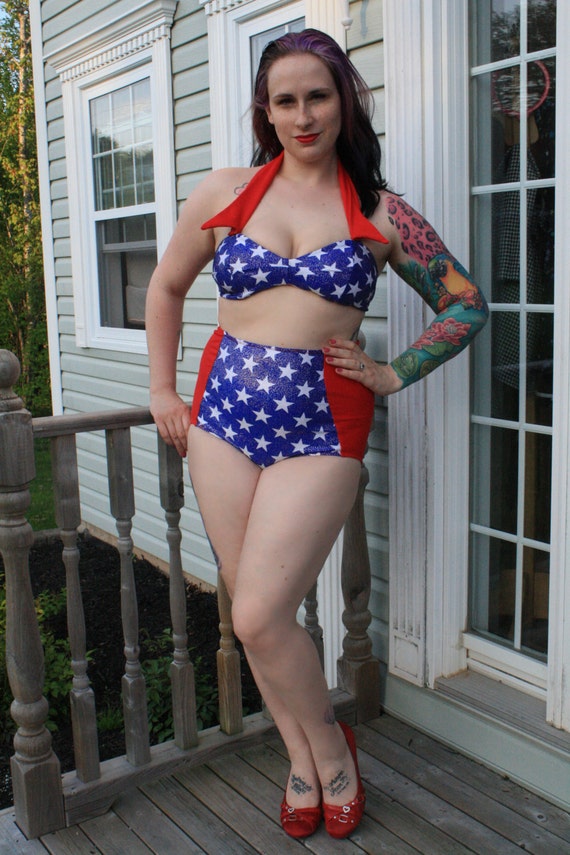 According to designer
vvapparel
,
This super gorgeous wonder woman inspired bikini features a high waist bottom with red sides and a sparkly blue with white star center front and back. The top features a tie up back and a red collared neck strap, top is also lined with swimsuit lining as well. The perfect pinup swimsuit with a modern print and vintage style! Super Cute!!
This two-piece is available in a multitude of sizes and can be purchased
here
for $99.99.
I hope this helps you channel the Wonder Woman in all of us! Happy Shopping!