I've only recently become a fan of "The Walking Dead." I know, I know, shame on me. Everyone was talking about "how awesome" this show was, so, of course, I ignored it, thinking it couldn't possibly live up to the hype. Well, it has. And because of it, I'm obsessed with Zombies. So I present to you, Brains, Blogs, and BRAINS!!!
Ok, maybe not brains right away, but I did find these absolutely adorable Living Dead dolls at
Madhouse Toys
According to the site: "Celebrate the original reanimated bodies with Living Dead Dolls Series 22. It's death from below with this collection, inspired by zombies! Set includes 5 dolls. When there's no more room in Hell, dolls will walk the Earth!" Aren't they terrifyingly adorable? You can purchase all 5 for $122.95, and shipping is free! You don't need BRAINS!!! to figure out that free shipping is awesome. Get it
here
.
One of my posts wouldn't be normal(?) without an item from my favorite site,
Etsy
.
Imagine a day, meandering in the garden. You're enjoying the sunshine and butterflies when you stumble across..a zombie gnome. AWESOME!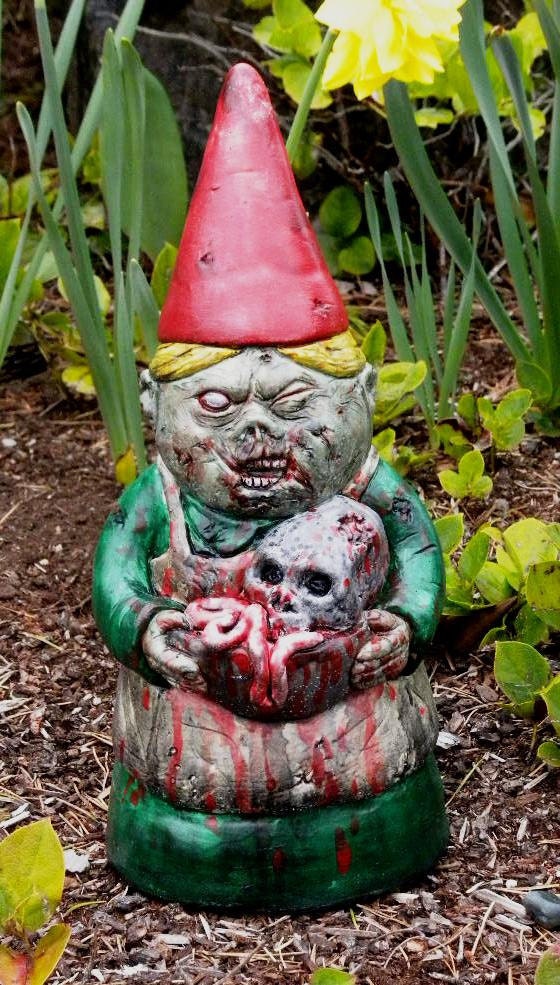 This cute little lady surely won't be scrounging around for your vegetables, but you might want to watch your lazy kitty. According to seller
dougfx
, "Since Garden Gnomes are a protector of "life" they are the first to fall ill to this new pandemic. They have become the undead in your flourishing garden of life. " How cute. She'll set you back a mere $59.00.
Purchase her here
.
Ok, ok. All of the Zombies I've been posting are static. Yes, they are inanimate (that we know of). But what if I told you that you could have your very own WALKER? Yes, you really can. I found it at
Retro Planet.
A remote controlled zombie? Shut the front door. But yes, he exists. What's even better? According to the site, "Even the remote is a scary rotten zombie brain shape." I'm terrified. $24.99 is what you pay for your own walker.
You can find him here.
Now that you've got your own walker, you've realized...how the hell are you going to keep him from eating you. How about all those other zombies for that matter? Well, you've gotta learn somehow. Find your lessons at
Amazon,
because...duh, you can find almost everything there.
This book had awesome ratings, which is why I chose it. Here's a book description: "Meticulously researched and vigorously detailed this important survival manual is the most detailed and up-to-date book you will find to keep you and your family safe during the Zompoc (Zombie Apocalypse). This book is unique in its coverage of all Zombie strains from the viral infected fast zombies through to the shambling re-animated undead. All subjects from zombie identification, first-aid, escape techniques, household defence, combat techniques and raiding through to bartering, supplies, vehicle modification, weapons and convoy structure are all covered in great detail. With this book you can prepare for the day the Zompoc strikes and be ready to fight back and eradicate the Zombie menace from our streets. This book is illustrated throughout and even contains full plans and instructions for a post-Zompoc rebuilding of civilisation!"
As I said, this one had pretty great reviews (despite the poor spelling and grammar, because, of course, when you're running from zombies it's the last thing on your mind). According to one reviewer, "Well, this book is certainly the most serious book about zombies. And i really enjoyed the deep thought and scientific facts he put into it. And i know a lot of you people probably are saying this guy is crazy... but this stuff is all too real."
Get it at here for $14.99.
That's it for now. My BRAAAAINS are slowly being eaten by Zombies. Hope you enjoyed!